Hiring a freelance professional comes with its share of worries. How do you choose the right person for the job? Where will you find them? How do you know they are genuine? These are just a few questions that come to mind when a business owner wants to hire a freelancer.
Third-party freelancing platforms are famous because they bridge the gap between professionals and clients. But which platform should you use to search for a freelancer? Naturally, you need to weigh the pros and cons carefully before making a decision.
We are here to help you with it. Here, we'll discuss two next-gen freelance platforms, Vettted and Contra. Both platforms follow the 100% commission-free model, where freelancers get full payment for their services.
However, certain differences set Vettted and Contra on different sides. As a business owner or representative, which platform will be more beneficial to hire a freelancer? Let's find out.
Comparison Table Summary
| | | |
| --- | --- | --- |
| Features | Vettted | Contra |
| Freelancer Screening | Yes, with strict filters | Yes (no details available) |
| Niche | Digital marketing | Multiple industries |
| Commission | No commission fee | No commission fee |
| Customer Support | Yes | Yes |
| Referral Program | Yes, with rewards | Yes |
| Communication | Within and outside the platform | Only through the platform |
| Freelancer Branding | Yes (link social media accounts) | Yes, with limitations |
| Add Projects from Client Side | No | Yes |
Vettted Explained
Vettted is a freelancing platform with pre-vetted professionals in the digital marketing industry. The freelancers are meticulously screened based on various parameters. Only the top 5% of professionals are selected and verified before being added to the platform. Vettted is particular about offering premium quality services to business owners and digital marketing agencies.
Unlike other freelancing platforms, Vettted doesn't cater to a whole lot of niches. It focuses on digital marketing services and provides all relevant services through experienced and efficient freelancers with domain expertise.
The narrowed focus on a single niche ensures you have access to the best in the market. It is also easy to find a freelancer if you have highly specific requirements. For example, if you want a professional to work only on off-page SEO optimization or semantic links, you can find them easily on Vettted.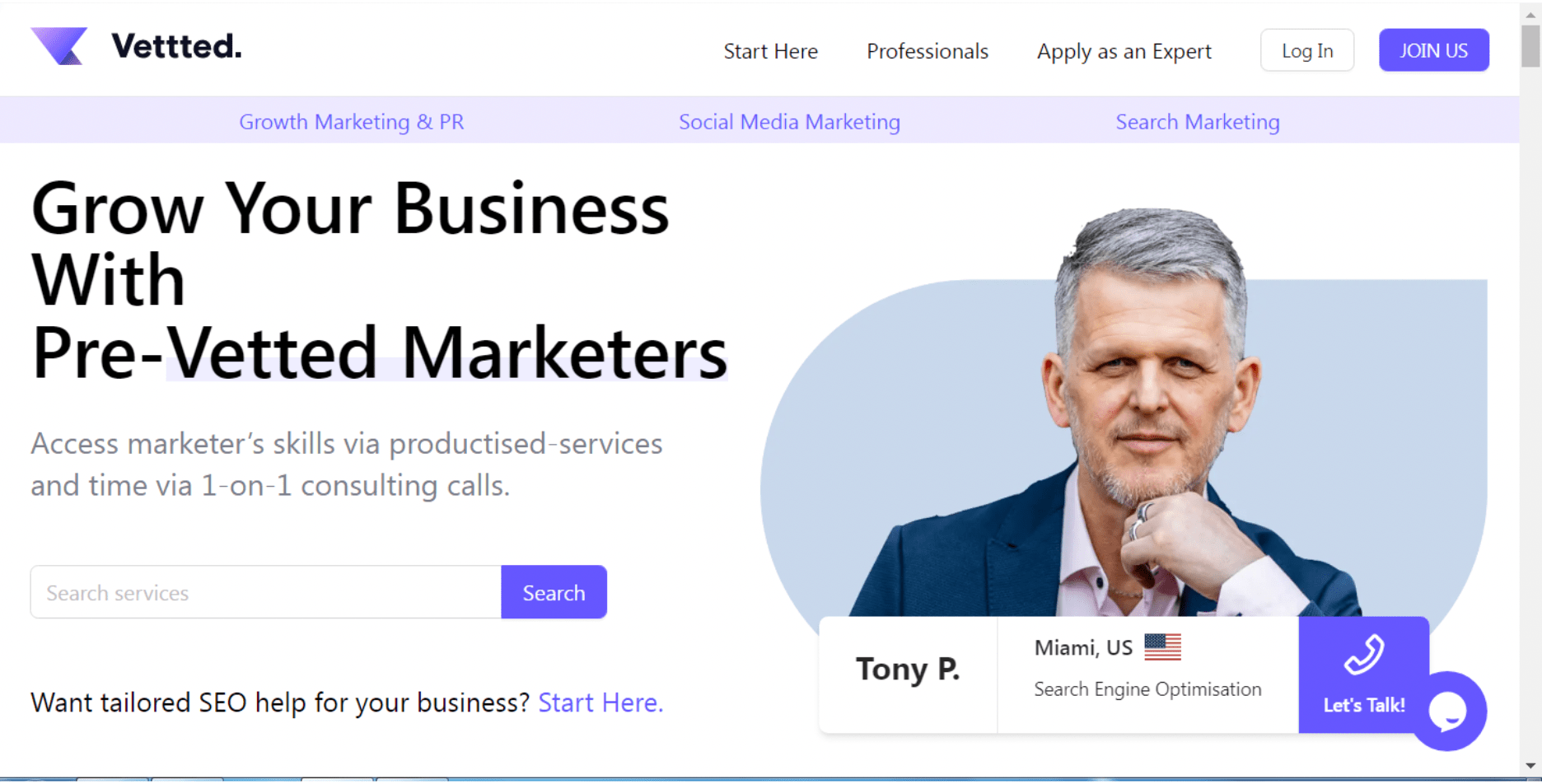 Why go through long lists of freelancers and their skills to look for what you want? Vettted simplifies the process by highlighting the domain of the freelancer. It takes just a few minutes to find a freelancer for your project requirements. Furthermore, you can communicate with the freelancers through video calls.
What's more, Vettted encourages freelancers to promote themselves by integrating their social media accounts with their profiles. Freelance professionals can brand their work, grow their network, and work with like-minded business owners.
Sounds like a win-win situation, doesn't it?
Contra Explained
Contra is a freelancing platform with talented and verified professionals from various industries in the market. The platform focuses on helping freelance professionals grow a network through collaborations and referrals. Contra allows you to be a freelancer and a client, making the best of both worlds.
The platform has professionals from niches like entertainment, social media marketing, graphics and design, digital marketing, etc. It allows professionals to create a detailed profile and has dedicated a tab (section) exclusively to list the services they offer. The profiles come with a verified tick beside their name, though the screening process isn't as specific as the one followed by Vettted.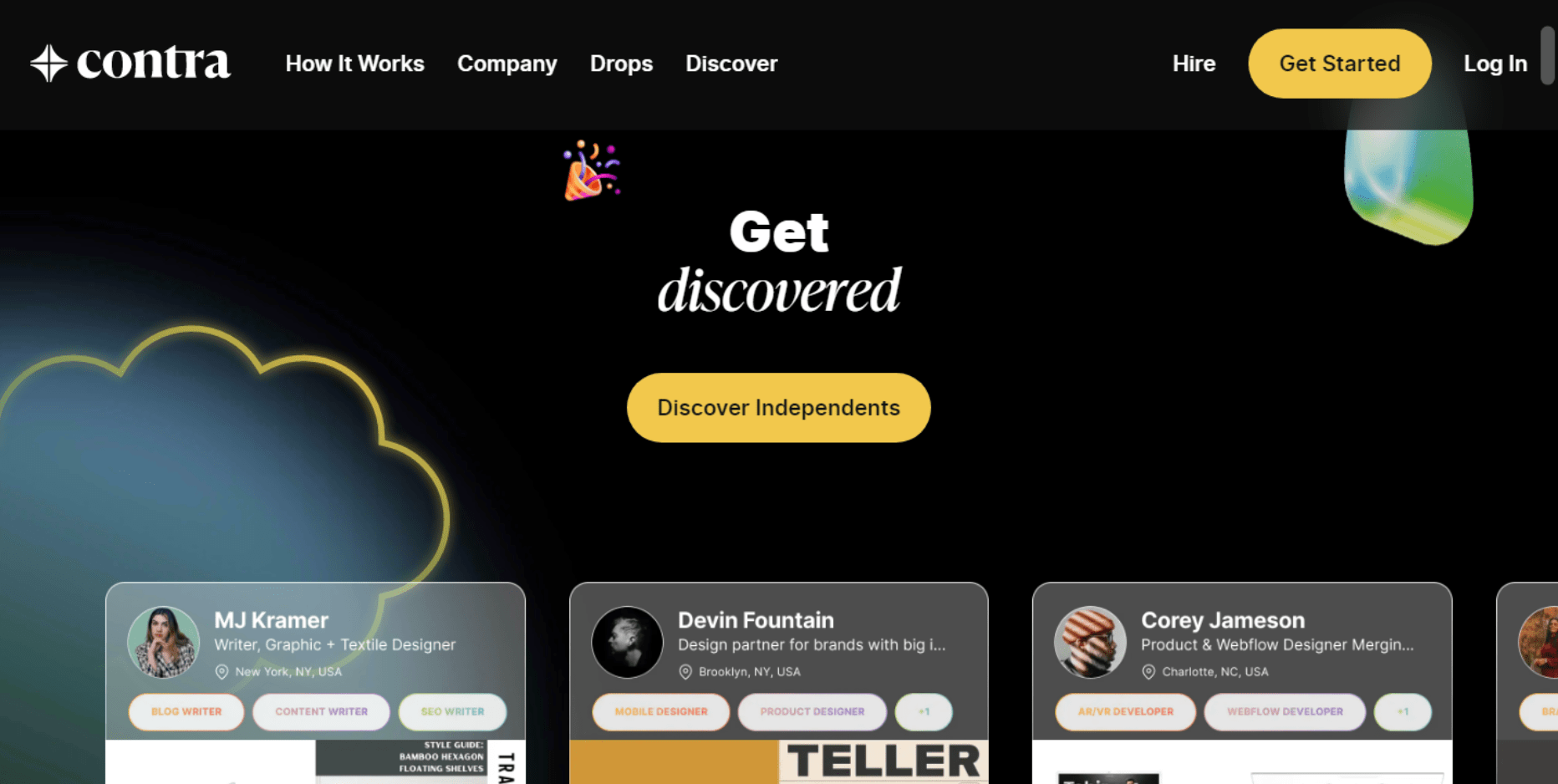 You can post a job/project opportunity on Contra after creating a client profile. The freelancers can 'show interest' in the project, or you can directly get in touch with them. Contra has a built-in chat interface for you to communicate with the freelancers and share the necessary information.
You cannot keep the project information private yet. You have to post the details when you list a new opportunity. This can be difficult if your work has sensitive information you cannot reveal to a bunch of people, which is not an issue if you use Vettted to hire a freelancer.
As a new service provider in the freelancing market, Contra doesn't yet have a huge network of freelancers to choose from. You can use this to your advantage or disadvantage, depending on your business requirements.
Comparison Between Vettted and Contra
You can keep the project details confidential and communicate with the freelancer outside the platform if necessary.
We come to the central aspect of the article. How do both platforms fare in comparison to each other? What are the similarities and differences between Vettted and Contra? Let's find out below.
Similarities Between Vettted and Contra
Vettted and Contra are new freelancing platforms in the global market. The platforms have been developed to help freelancing professionals promote and monetize their skills.

Both platforms have a 100% commission-free paying model. That means a freelancer will retain 100% of what they earn from a project instead of taking a pay cut in the name of the commission.

You are not charged a fee to find a freelancer or post a job opportunity. Use the platforms to connect with a professional without worrying about your budget.

You have access to freelancers from different parts of the world. There are no geographical restrictions when hiring a professional for your project.
Differences Between Vettted and Contra
It's important to know that you have access to reliable, efficient, and trustworthy freelancers in the global market. Though Contra says they screen the freelancers, the process is not clear.
Vettted highlights how it selects only the top 5% of applicants to maintain quality and ensure top-class services to clients. There is a great deal of trust involved in hiring a stranger for a project. On Vettted, you can be assured that the professional has gone through a strict screening process and proved their worth.
The freelancer's profile is no less a gold mine. That's where you can find more details about the professional. Contra has two tabs/ sections for freelancers to list their skills, services, rates, previous projects, and so on.
Vettted has four sections- Services, Reviews, Portfolio, and About. The services/ specializations are listed in the first section with clickable templates. The price of each service is provided, with the number of projects and customer satisfaction rate.
The reviews section has all the reviews provided by previous clients on Vettted. The Portfolio has links to other projects/ achievements by the freelancer. The About section contains bio and links to social media accounts. The profiles also have call and message buttons at the top. You can directly call them or fix an appointment for later.
How do you find a freelancer for your project? On Contra, you can go through the list of freelancers and send them an inquiry message or post an opportunity for freelancers to respond.
On Vettted, you can follow a similar pattern of going through the list or searching for freelancers based on the type of service. Send a message or call the freelancer you want to connect with.
Communication and Interaction
Isn't this the most important part of the deal? After all, you cannot hire a freelancer without talking to them. And then, you should be in regular communication to track the progress.
Contra has built-in chat services, which should be used for communication. The platform recommends freelancers and business owners use the platform for all interactions.
Vettted offers more options. You can message or call the freelancer from the platform. You can check their social media accounts and send them a DM on their profiles. It's up to you to choose how you want to interact with the freelancer.
There's no denying the better quality of services when a platform limits itself to certain niches. That's where Vettted scores higher than Contra.
Though Contra has freelancers from many industries, it doesn't mark any field as a specialist area. On the other hand, Vettted proclaims to specialize in digital marketing services and its various subcategories. If you're looking for online marketing services from verified freelancers, Vettted should be your go-to choice.
Contra calls itself a referral network aimed to help freelancers expand their connections. Vettted offers similar advantages, albeit differently. On Vettted, you earn a range of rewards for adding freelancers (sellers) to the platform. A double benefit, don't you think?
Final Words
Vettted and Contra are new-age service providers with growing markets. The platforms are designed for the future.
Whether you are a freelancer or a business owner, you want the freedom to manage work on your terms. Freelancing platforms offer this freedom, though some have their own set of restrictions. It's up to you to choose the one that best suits your requirements.
Check out how Peopleperhour fairs in comparison with Vettted.